PONTON celebrated the end of the pandemic with a company off-site in Mallorca. New-gained freedom and beautiful surroundings aside, there was a strong rationale for meeting in person: We had not seen each other face-to-face for such a long time, so we just wanted to spend time together. From a controlling perspective, our budget for off-site events had also accumulated over the past two years – it would have been wrong to pocket it.
Click on the image to see the video…
So, we fully utilised four long days on the Island for internal workshops, dining (our self-baked Paella, a stylish tapa restaurant, rural places with very Mallorquin cuisine, and BBQ on the sea) and exciting events.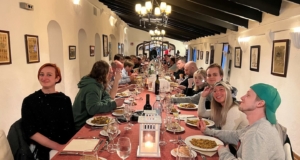 It was truly moving to learn (again) from each of our colleagues, what made them join PONTON when they did. These circumstances created a colourful timeline of PONTON's existence over twenty years. And it was an inspiring exercise to learn what some of our people do in their spare time. Konrad Zuse may have built the first computer in the 1940s, but there is also a young hardware genius in our team who does the same – plus a 3D-printed printer to print out the wiring scheme of the computer.




After 15 hours of workshops over two days, we headed into the weekend: On Saturday a self-designed treasure hunt led the team to historic places alongside the Serra de Tramuntana with such beautiful places as Valldemossa, Son Marroig, Deia, and Port de Soller. As a side effect, we learned that Mallorca is not only an island, but as the same time – and for 60 Million years – THE pivotal point of a truly all-encompassing conspiracy involving both Frederic Chopin and Boris Becker of all people. What an eye-opener!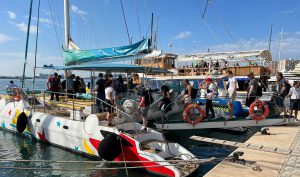 On the last day, we rented a large catamaran and sailed down from Palma bay to the rocky coastline in the south. We chatted in the sun, drank a beer or two, listened to lounge music and had barbecue. Five hours went like minutes.